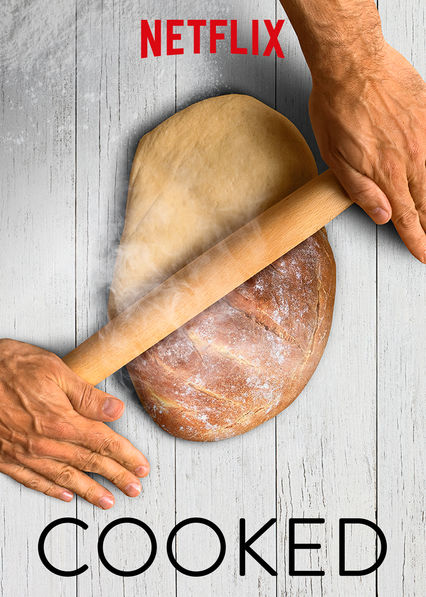 Normally when I see a documentary what I see things like Cosmos or environment. Have discovered this documentary has made me reconsider not only about cooking, but that customs have changed from generation to generation.
The first time I saw the documentary I thought it would be about something else like
The Great British Bake Off
but actually is "
look at the evolution of what food means to us through the history of food preparation and its universal ability to connect us" according to Michael Pollan. The documentary is divided in four episodes: Fire, Water, Air and Earth; and it's based in the book "Cooked" by Michael Pollan.
Cooked makes you think about how the passing years humans have lost something important that characterises us: cooking. If we lose this, we lose part of our culture, and this is exactly what I like about it. It emphasises that now instead of cooking we prefer fast food that has nothing of natural and hence makes us fat.
What I liked the most is that for a lot of people a cheese or a bread or a meat, it is not only food, is an almost magical process of nature. And (as I said) is a recipe that has passed from generation to generation.
In conclusion: Cooked made re-think that cooking is not such a simple activity, it involves natural, ethnic and social factors.What it is for many just food, for other it represents being able to cook and share it at dinner with your family.
xoxo, lizbeth.
Normalmente cuando veo un documental lo que veo es algo como Cosmos o temas sobre el medio ambiente. Haber descubierto este documental ha hecho que recapacite no sólo sobre la cocina, si no sobre que las costumbres han cambiado generación a generación.
Cuando vi por primera vez este documental pensé que sería sobre otro tema como
The Great British Bake Off
pero en realidad es "un vistazo a la evolución de lo que la comida significa para nosotros a través de la historia de la preparación de la comida y su habilidad universal de conectarnos"
según Michael Pollan
. El documental se divide en cuatro episodios: Fuego, Agua, Aire y Tierra; y está basado en el libro "Cooked" por Michael Pollan.
Cooked te hace pensar sobre como al paso de los años los seres humanos hemos perdido algo importante que nos caracteriza: cocinar. Si perdemos esto, perdemos parte de nuestra cultura, y esto es exactamente lo que me gusta de esto; hace énfasis en que ahora en vez de cocinar preferimos comida rápida que no tiene nada de natural y que por ende, nos hace engordar.
Lo que más me gustó fue que para muchas personas un pedazo de queso o pan o carne, no es sólo comida, si no es un proceso casi mágico de la naturaleza. Y
(como ya dije) es una receta que ha pasado de generación a generación.
En conclusión: Cooked me hizo volver a pensar en que cocinar no es una actividad tan sencilla, involucra factores naturales, étnicos y sociales. Lo que es para muchos sólo comida, para otros representa el poder cocinar y compartirlo en la cena con tu familia.
xoxo, lizbeth.